Innovative Approaches to Draw Crowds to Your Trade Show Booth
Trade shows offer an exceptional avenue for networking, fostering connections, and presenting your products or services to a wider audience. Participating in such events not only outshines your competitors but also opens doors to transforming visitors into loyal customers.
After investing considerable effort into crafting a distinctive trade show booth, the challenge lies in attracting a maximum number of people to your display. This task becomes even more daunting with the diverse array of exhibition stand designs, each flaunting captivating visuals and lighting. So, how can you make your exhibition booth rise above the noise and captivate the attention of attendees?
Here are 6 ingenious methods to effectively draw larger crowds to your exhibition stand during your upcoming event.
1. Pre-Event Promotion
Building anticipation is key to ensuring that your brand is on attendees' radars even before the trade show kicks off. Leverage social media to its fullest extent, engaging with potential clients and spreading the word about your participation. Don't shy away from crafting newsletters or contributing articles to magazines or websites in your industry. If your booth offers interactive games, product demos, or giveaways, tease these attractions to generate excitement. Enhanced awareness of your offerings results in higher foot traffic to your exhibition stand.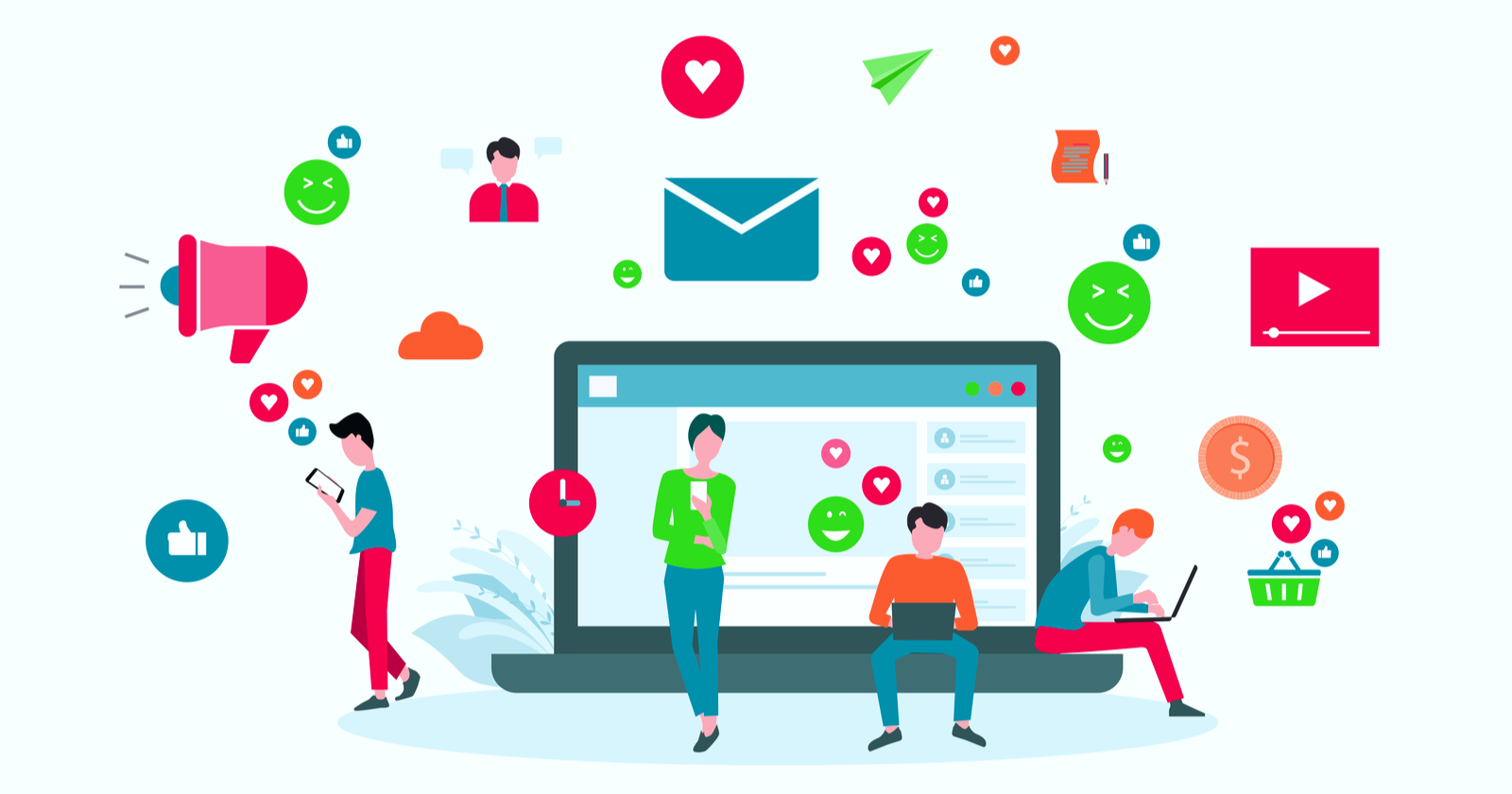 2. Harness the Power of Visuals
Elevate your visual game to entice and engage visitors. A mere banner stand won't suffice; invest in dynamic elements like pop-up displays, tension fabric displays, or backlit setups. Collaborate with an trade show design expert, such as Trade Show House, to create a distinctive, vibrant and visually eye-catching display that seamlessly embodies your brand's essence. A compelling visual presence should communicate your message clearly and hold attendees' attention.
3. Craft an Inviting Environment
Trade show attendees often navigate through overwhelming stimuli and information overload. Crafting an exhibition stand that provides a haven of relaxation can be a game-changer. A welcoming space with comfortable seating and ergonomic flooring can sway passersby into becoming engaged visitors. In an event characterized by hustle, a comfortable corner to unwind can make your booth an irresistible stop.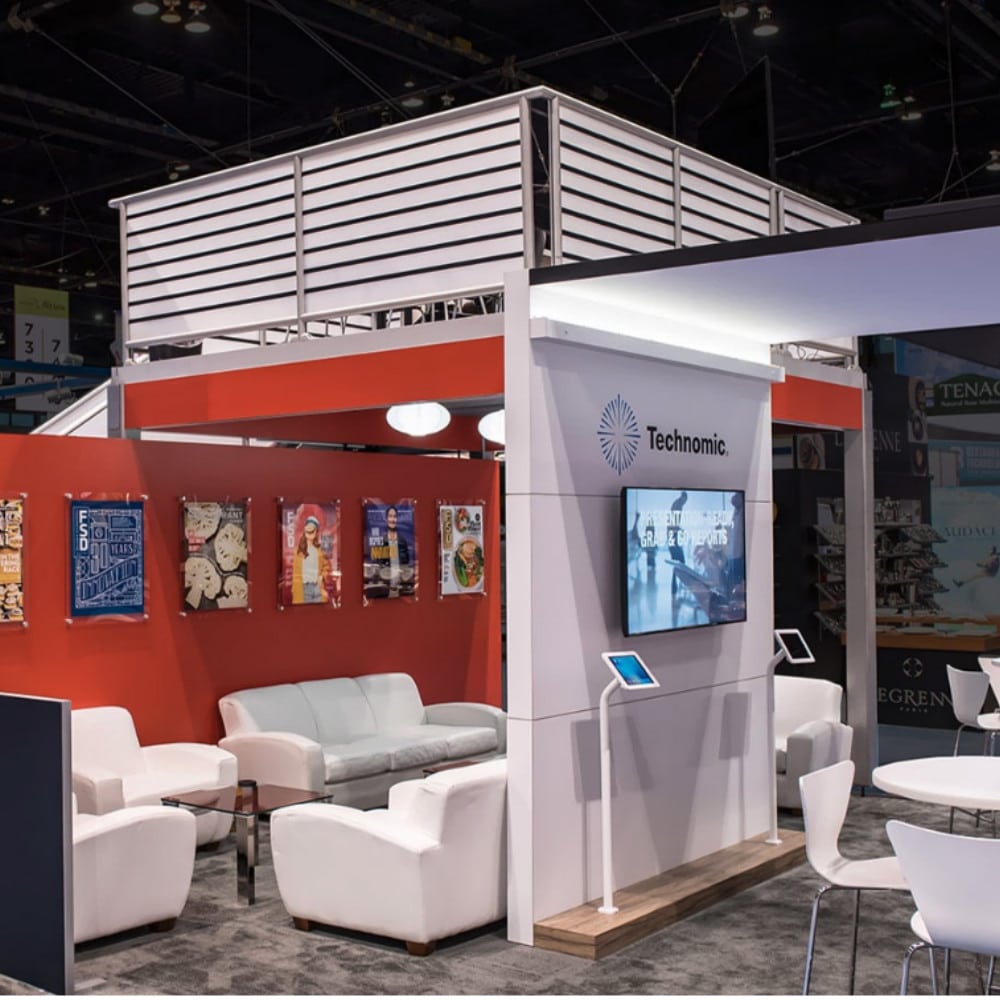 4. Interaction is Key
The moment a visitor steps towards your trade show booth, initiate a connection. Sustain their interest by facilitating meaningful engagements that hold them at your booth longer. Incorporating an information counter or a reception area fosters dialogue and encourages inquiries. Visual content like captivating videos or interactive demos, as well as literature stands for easy access to promotional material, can greatly enhance engagement. Consider organizing contests or giveaways to inject a sense of competition and excitement.
5. Curate a Consistent Theme
Consistency is paramount, whether you opt for a standard booth kit or bespoke design. Beyond showcasing your logo, express your brand's essence creatively. Crafting an enduring, resonant theme involves thinking outside the box. This visual coherence builds a lasting impression, making your booth not just another stop but a memorable experience. Harness your brand's colors to seamlessly communicate your identity.
6. Exhibit Expertise
Establishing yourself as an authority in your field is a surefire strategy to draw attendees. Regardless of your offering, showcasing your knowledge and proficiency can greatly enhance your booth's appeal. Seize opportunities to share insights through presentations or workshops. Encourage visitors to engage with your offering in innovative ways. Embrace creativity and demonstrate your mastery—such unique approaches magnetize potential clients.
In a sea of trade show booths, the art of standing out rests on a blend of pre-event promotion, captivating visuals, inviting ambiance, meaningful interaction, thematic consistency, and showcasing expertise. By embracing these strategies, you transform your exhibition stand into a beacon that beckons attendees, converting them into intrigued and loyal patrons.
Choose The Right Partner
To truly make a memorable impression at your next event, it's essential to possess a trade show booth display that exudes quality, captures attention, and fosters engagement. With Trade Show House as your partner, crafting an impeccable trade show exhibit that resonates with your brand's aesthetics becomes an exciting reality. Our collaboration empowers you to customize the display to seamlessly align with your company's identity. Prior to finalizing, you'll have the opportunity to preview the exhibit, instilling you with confidence for your next trade show event!